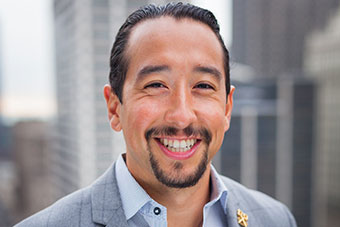 At Kimpton Gray Hotel, no detail goes unnoticed. We took this philosophy to the next level with our Director of Concierge Services, Bobby Gonzalez. Specializing in curated partnerships and programming, he creates unique experiences and adds a personal touch.
Bobby is an award winning Concierge spanning over several Kimpton hotels.
A member of Les Clefs d'Or USA, an organization that represents Concierge that are at the pinnacle of the profession: Bobby is an active member of the Chicago Hotel Concierge Association, and enjoys mentoring new members just starting their Concierge journey. He sits on the Communication Committee for both associations managing social media platforms @LesClefsdOr & @AskCHCA.
An award winner of the IHLA Employee of the Year award for the Chicagoland region, and the Concierge Preferred Jon Winke Rising Star award, voted in by his peers.
Bobby is at your service, and can't wait to welcome you! From teaching your Group how to tie a bow-tie to curating custom themed amenities, Bobby is here to elevate every experience at The Gray. Short a minister or bartender? We have him ordained and trained as well – he really is a jack of all trades.
Bobby's Key Recommendations