Go glamorous with fine dining in Chicago
Opera singer Luciano Pavarotti once said: "One of the very nicest things about life is the way we must regularly stop whatever it is we are doing and devote our attention to eating." How true that is. And every once in a while, during one of those regular stops, it's worth going all out — that's where Kimpton Gray Hotel's private dining options come in.
To learn more and plan your next event at Kimpton Gray Hotel, email sales@grayhotelchicago.com or call us at (312) 750-9012.
Ignite Your Holiday Spirit
We have all the ingredients you need to plan the perfect party - inspiring spaces, food and cocktails, plus curated playlists. Book by January 31, 2018.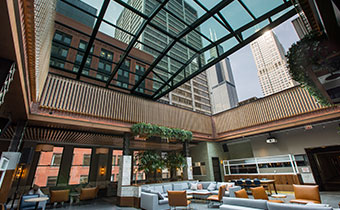 Boleo Events
South America comes alive in our top-of-the-hotel lounge with retractable glass roof. With world music and irresistible Latin-inspired small plates, Boleo is the most unique Chicago venue for parties of 12 to 250. Your guest can sing along with the beat of the DJ or just enjoy the starry sky. Plan your perfectly unique events, year-round.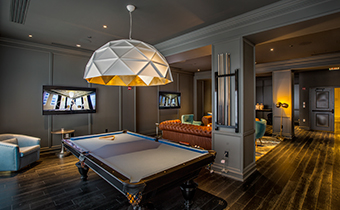 Robie Room Events
The Robie Room also offers sleek leather couches and a billiards table for collaborative gatherings. Our most popular feature for events is the expanding bar and club-like leather décor throughout.
Vol.39 Events
Vol. 39's ambience evokes that of a dimly lit law library or a 1940s era smoking lounge, all tufted leather couches in cognac and charcoal hues. And our food and beverage service follows suit.